Insurance
Streamline policies, claims and renewals with an integrated solution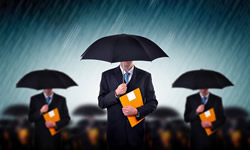 Process policies, renewals and claims more efficiently and accurately. With enterprise content management solutions from etfile you can take customer service to a higher level and be more competitive in the fast-paced insurance industry.
etfile can help you streamline sales and claims processing by creating a paperless office where you can save time, boost productivity, and raise efficiency.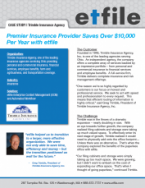 Premier Insurance Provider Saves Over $10,000 per Year with etfile
"etfile helped us to transition to a larger, more effective organization. We were not only able to save time, efficiency and money – but the transition positioned us well for the future."
− Greg Trimble, President, Trimble Insurance Agency, Inc.
CLICK HERE FOR FULL CASE STUDY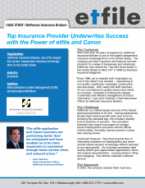 Top Insurance Provider Underwrites Success with the Power of etfile
"The etfile application and Canon scanners are performing better than
we anticipated and have enabled us to be more responsive to customers
through faster service times and reduced errors." 
- John Peterson, Chief Information Officer, Heffernan Insurance Brokers
CLICK HERE FOR FULL CASE STUDY
etfile has the ability to help your agency: 
Accelerate policy sales using online collaboration tools
Instantly retrieve and view any file from any computer
Be more efficient with online file sharing among multiple reps in multiple offices – no printing or faxing required, unless you want to
Integrate with existing software and applications
Stay on top of legal (e-discovery) implications and regulatory compliance
Quickly attach documents to client files, policies, activities and claims
Automatically add descriptions/activities
Receive and retrieve scanned documents in a central location from remote sites
Retrieve documents by keyword, file name, date or type
File security with our exclusive Audit Trail feature and reporting
Secure back-up without taking up office space
Ensure compliance with steamlined workflows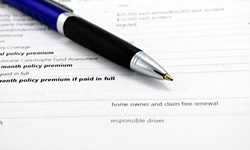 Insurance is a document and email intensive business. File cabinets take up valuable workspace. Emails quickly pile up in inboxes. Papers get shuffled from desk to desk, email inbox to email inbox – and you lose productivity searching for "lost" documents. Worst case scenario – you lose or misplace documents required for regulatory compliance and privacy laws.
etfile eliminates all of those problems with automated workflows for file sharing, document archiving, and end-to-end document management. Our single data repository makes it easy to securely store and retrieve sensitive customer information. As a result, you'll reduce operating costs while having more control of insurance document management in a streamlined paperless office.